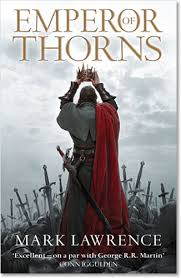 It was worth not winning for that pun.

Huge congratulations to Mark Lawrence who pipped me (and, y'know, Jordan/Sanderson, Lynch and Brett) to the David Gemmell Legend Award this year with Emperor of Thorns.
The image to the left has a double significance as Jason Chan's artwork for Emperor won the Ravenheart award for best cover. Meanwhile, Brian McClellan won the Morningstar award for best newcomer for Promise of Blood.
Thank you to everyone who voted for me, and let's see if we can't lose to Joe Abercrombie next year, eh?