Just a brief piece, as I am currently laid low with a severe case of the edits. I posted a while back about how I'd caught the podcast bug but good, and more recently went into some detail about Dissecting Worlds (whose espionage series has recently wrapped up). I have been expanding my reach into the podcast world, octopus like, and just wanted to throw up a few more I'd run into that are worth a listen.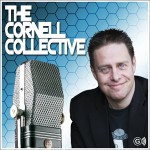 I'm just giving a go to the 2000AD Thrillcast (1), a relatively recent entry onto the podcast world, covering all things Thargoid or Dreddlike. I've not had a chance to listen to many, but I hear very good things.
Also very new on the scene is The Cornell Collective. This is the brainchild of the multi-talented Paul Cornell, whose aim is to bring together the best of the worlds of TV, comic and novel writing in the comfort of your own ear. Which now sounds as if it's some sort of weirdly invasive parasite, but I promise you, it's not! Paul's first guests are Peter Harness (Jonathan Strange & Mr Norrell), Diana Rowland (White Trash Zombie) and Si Spurrier (most recently The Spire and Cry Havoc, but basically all the comics). I've just finished listening, and it's excellent.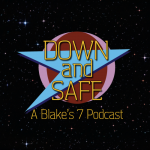 However, I am also very deeply in love with Down and Safe, which is a Blake's Seven cast tackling the series episode by episode, helmed by Michael Damien Thomas, LM Myles, Amal El-Mohtar and Scott Lynch (2). This is, basically, a hoot, approaching the series with the perfect combination of fondness and irreverence that it needs.Brian Blessed riding a giant bee! Paul Darrow's perfect face! Screeching mucus Ewoks! What more do you need?
Also, and I keep forgetting to mention this because I always think I did so beforehand, but I have become a firm adherent of the Starburst Bookworm podcast, helmed by Ed Fortune, Ninfa Hayes and co, which is a top notch review and news site for all things genre and literary.
Finally for this round, I give you Meanwhile in the Future, a podcast by Rose Eveleth exploring Real Science through a little What If science fiction. Each week a fictional intro leads into discussion of what would happen if… a particular sci-fi (or sometimes not particularly sci-fi – see the ep on running out of antibiotics) future came to pass. The episodes are short and easily digestible, both entertaining and informative.
Finally, for reasons that you'll need to listen to episode 2 of Down and Safe to understand, here is a picture of Brian Blessed on a giant bee.
(1) Not, as originally typed, the 200AD Thrillcast, in which Judico Dreddus runs around shouting "Ego sum legem!"
(2) Yes, that Scott Lynch.