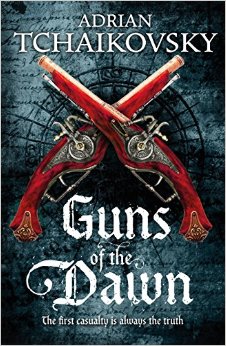 I have actually been sitting on a post for a while – basically my usual Clarkes shortlist writeup, except it now feels super weird to post it, even though it amounts to little more than a "these books are awesome do go read." So… no idea if that will ever get posted. But they are all awesome and please do go read.
But today I found out that my own little Guns of the Dawn has been shortlisted for the British Fantasy Society's Robert Holdstock Award (aka the other award I usually do a shortlist reading post for, as of last year). And that is marvellous news, and I am enormously indebted to all the BFS members who voted for me, and for people like Michaela Graham and Emma Newman who have championed the book so much.
Last year was the first time I got novels out which weren't part of an ongoing series, and it's terrific that both of them have got this kind of recognition. I'm not going to do my usual self-effacing bit. I'm going to admit that I am really very, very happy with how that all worked out.
Moving on, though: how about those shortlists, eh? Take a look here. It's an exceptionally strong year on all fronts, I think. There's a mix of big names and smaller players too – so for example Stevenson's Nimona (a personal favourite) is neck and neck with, Sandman, Ms Marvel and the multi-awarded Saga, and Stephen Volk is up for the screen award along with Mad Max and Star Wars (and nice to see Jonathan Strange and Mr Norrell there as well!). And Tor UK have had a particularly good year, with Zen Cho's Sorcerer to the Crown hitting two lists, Adam Nevill hitting two lists, and Novak's Uprooted quite possibly the favourite to win the Holdstock itself, having already won the Nebula. Nice to see Jen Williams' Iron Ghosts there too.
Paul Cornell's Witches of Lychford is up for the novellas – pipped by Aliette de Bodard for the BSFA short fiction, but looking good here (My praise for it here and in fact Paul's 3rd Shadow Police novel, Who Killed Sherlock Holmes is now out and I must get myself a copy of it), Becky Chambers, whose brilliant A Long Way to a Small Angry Planet is up for the Clarkes, is on the Best Newcomer list for the same book (and it's a phenomenal read) along with Zen, Peter Newman (who has just released The Malice, a sequel every bit as good as The Vagrant), Marc Turner and Steven Poore, good writers all.
The winners will be announced at this year's Fantasycon this September.