Picocon is a really nice little convention, for anyone looking for places to be next year. Imperial College put on a very good show — guest talks, panel discussion, destruction of dodgy merchandise with Science, and at no time whatsoever was there combat to the death with fish.
Justina Robson and Tricia Sullivan gave a pair of very thought-provoking speeches about science fiction writing, where they wanted to take it and what directions other demands were pulling them in. Justina had a graph, and Tricia had a musical analogy. My own talk about perceptions of epic fantasy also went down very well, including the "how to write a generic fantasy epic" comedy spots, which were notably less tumbleweedy than I had feared. I will say I spent 2 hours the previous evening frantically re-writing huge sections of it, that turned out to be time well spent.
I am very grateful to Picocon organisers/staff/volunteers, as we writers were well and truly taken care off (1) throughout.
Nice also to hook up with Juliet McKenna and Paul Cornell — it's a convention that former guests tend to come back to as punters in later years, which pattern I may well follow.
And there was a quiz, and it was extremely tough. Even with Paul on side we scraped third place, and that was with a number of questions rather graciously featuring our own works.
But perhaps the most glorious result of Picocon for me was: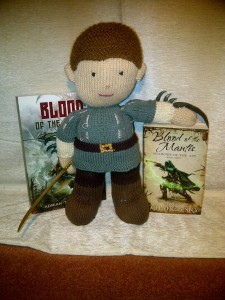 KNITTED TISAMON!
For which I have to thank Rosemary Warner a.k.a. Pufferfish, and I am still absolutely bowled over by this.
(1) Not in a Mafia way.