About the author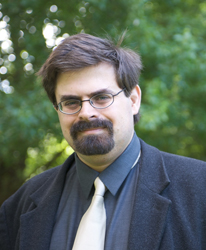 Adrian Tchaikovsky is the author of the acclaimed Shadows of the Apt fantasy series, from the first volume, Empire In Black and Gold in 2008 to the final book, Seal of the Worm, in 2014, with a new series and a standalone science fiction novel scheduled for 2015. He has been nominated for the David Gemmell Legend Award and a British Fantasy Society Award. In civilian life he is a lawyer, gamer and amateur entomologist.
Guns of the Dawn, his new fantasy novel, is out now.
A full bibliography of long and short fiction can be found here.
Find me on Facebook, Goodreads, or as @aptshadow on Twitter.
I am represented by Simon Kavanagh of the Mic Cheetham Literary Agency at 62 Grafton Way, London W1T 5DW, email to simon@miccheetham.com
All fiction on this site remains (c) Adrian Tchaikovsky, or alternatively (c) its own author if written by another. The moral right of the author of each piece is asserted in each case.
Praise for 'The Shadows of the Apt' series:
'Tchaikovsky clearly has a great deal of talent, and a real handle on the fantasy genre, with the ability to splice in different influences almost seamlessly' SciFiNow
'Reminiscent of much that's gone before from the likes of Gemmel, Erikson, Sanderson and Cook but with its own unique and clever touch, this is another terrific outing from Mr Tchaikovsky' Sci-Fi-London
'Occasionally a fantasy author comes up with a way to break the mould of traditional genre tropes: M. John Harrison's Viriconium and China Mieville's Perdido Street Station are two examples that immediately spring to mind. Tchaikovsky, on this evidence, looks like a new addition to that select hall of fame' Death Ray
'The insectile-human premise is inventive, shaping the world in all sorts of ways' SFX
'Full of colourful drama and non-stop action involving mass warfare and personal combat, Dragonfly Falling brilliantly continues the Shadow of the Apt epic fantasy series that began in Adrian Tchaikovsky's remarkable debut novel, Empire in Black and Gold.' Fantasy Book Critic
An interview with Adrian that ran in the September 2009 issue of SFX magazine:
Adrian Tchaikovsky
Meet a Brit author in the vanguard of the new heroic fantasy…
Words: Jonathan Wright
There comes a point when you simply have to commit to a career. Back in 2002, Adrian Tchaikovsky began work on his 'Shadows of the Apt' fantasy sequence. Despite being a man "able to wallpaper most of the house with rejection letters" from previous attempts to get published, he made a commitment to himself to write a quartet of novels.
"I knew that if I wrote the first volume and sent that off and it got rejected, I wouldn't have the willpower to go on with the series," he says, "so I decided I'd have to write the full sequence, the first four books, before sending off to anyone."
Three years later, it was a gamble that paid off as the novels attracted the attention of agent Simon Kavanagh from the Mic Cheetham agency, which also handles such authors as Iain Banks, M John Harrison and China Miéville. Fast forward another four years and the third novel in the 'Apt' sequence, Blood of the Mantis, has just hit bookstores.
Tchaikovsky is on his way, in great part because his books have attracted an audience among epic fantasy fans. That's not the whole story, though. "There is an empire, there are battles, there are wars, there are duels and heroes and so on," says Tchaikovsky, "but it's all skewed from the fantasy standard."
Instead of following the adventures of a kid with a sword, Tchaikovsky brings in other elements to freshen things up.
"There's a lot of technology around, although it's very steampunk style," he says. "Essentially what I've done is change the weighting of how efficient different types of technology are so that, for example, there are gunpowder weapons but they're not particularly efficient compared to ours. Then there are clockwork automata that are capable of things that clockwork simply isn't in the real world.
"By making this kind of adjustment, you end up with a peculiar type of technology. There are airships, there are locomotives, there are lots of ground vehicles, many of which walk on legs rather than wheels because there are a lot of giant insects in the world and that's what the builders are taking their inspiration from."
Ah yes, the insects. Instead of elves and dwarves, Tchaikovsky's fantasy revolves around human races, 'kinden', that each has "a different totem insect". As to why insects, it's clear Tchaikovsky gets asked this question a lot. "Because it was different, because it allowed me to play with insect-influenced cultures a lot, and because I like insects, basically," he says.
It all makes the atmosphere of Tchaikovsky's fiction, which he says have the "17th-century or 18th-century feel of empires and politics, spies and so forth" far removed from the fantasy pioneered by JRR Tolkien. Tchaikovsky says it's impossible to ignore the influence of The Lord of the Rings, but he says he's trying to do something very different to the creator of Middle-earth.
"Tolkien was essentially writing a myth cycle more than he was writing novels," says Tchaikovsky. "He happened to invent the fantasy trilogy while he was doing it, but I'm not sure that's primarily what he was intending to do. As a myth cycle, it works very well, but of course in a myth cycle the characters are a lot more simplistic and the moral issues are a lot more easy to identify than in novels."
Tchaikovsky, along with fellow travellers such as Joe Abercrombie and Stephen Deas, writes what's become known as 'new heroic fantasy'. The trio even shared a panel on this subject recently at Sci-Fi London. If there's a movement here, says Tchaikovsky, it's not contrived, but rather the result of "a few people who just happen to see the same things in the world they're in and react against them in the same way" emerging at the same time.
"The common elements, if you can sufficiently define the new heroic fantasy novels, are they tend to be less black and white, morality-wise, grittier and they have characters who are far more morally compromised." For an example, look no further than spymaster Stenwold, one of the recurring characters in the novels and someone who takes, ahem, difficult decisions over matters of life and death every day.
This ambiguity extends beyond character, into the books' themes. "One of the major themes is technological progress, what it's good for, what it's not good for," says Tchaikovsky. "In the books, you effectively have a big divide between characters. There are those races, those kinden, who can handle technological devices. There are those kinden who are more allied to the old ways, that are fast receding into the past. As the longer series goes on, you'll see those two ideals essentially at war whilst the more 'mundane' war is going on.
"Certainly, the idea of magic versus technology, I'm not saying that's not been done before, but usually when it's done it's been presented as one side; usually the technological side, is bad, and the magical side is terribly put upon and good. I'm trying to show that both sides have pros and cons."
He's likely to continue showing both sides of the story for a while yet. The fourth volume of the first 'Apt' quartet is already written, and there are at least another six books – two trilogies – in the pipeline as long as Tchaikovsky continues to find an audience. Considering he has a challenging day job as a legal executive and a young son, it may soon come time for Tchaikovsky to decide whether to become a full-time writer or – he's a night owl – continue to work when others are abed.
For now, it's clear he's just delighted to be a working fantasy novelist. A childhood fan of //Dr Who//, Ursula Le Guin and Diana Wynne Jones, Tchaikovsky is "steeped in the idea of fantastic worlds". What could be better, he says, than writing in worlds where you "have the possibility that possibilities are endless"?
An interview posted on www.sfx.co.uk in July 2008:
Author interview: Adrian Tchaikovsky
New author Adrian Tchaikovsky is published today by Pan Macmillan. His novel Empire in Black and Gold is set in a fantasy world where human civilisations are influenced by insect characteristics. There's a review in issue 172, and here we thought it would be good to speak to the man himself, and ask him to give you a flavour of what's in store:
SFX: Can you list five words that describe your writing?
Adrian Tchaikovsky: "Character-driven, fast, emotive, action-packed, entomological. I can hyphenate, can't I?"
SFX: Sure, why not! Without giving too much away, what's the basic premise of your new novel?
AT: "The Lowlands of the insect-kinden are a mess of warring city-states, each against its neighbour, but the Beetle-kinden, with their social and technological advances, have slowly been civilising the place, spreading enlightenment, trade, an end to slavery, the value of learning. The Beetles are complacent, though, and of them all, only one man is willing to face up to the fact that the Lowlands' close neighbour, the Wasp-kinden Empire, is gearing up for a war of conquest. The book follows that man, Stenwold Maker, as he tries to open the eyes of the Lowlands, and tries to thwart the Empire's first opening moves against his people. As the Wasps are well aware of the message he's been spreading, one of their first moves is to try and get rid of him…"
SFX: What was your biggest challenge in envisioning the fantasy world of Empire in Black and Gold?
AT: "There are some big differences between the world of the insect-kinden and the real one (or a lot of other fantasy worlds). The wildlife is completely different – there are no wild vertebrates at all – and that has a knock-on effect on how people live, what they eat and what they make things out of, and even what figures of speech they use. Then again, there's no religion as we would understand it, and that also has a massive impact on the characters' language, especially what they say when they hit their thumb with a hammer. It's been difficult to distance myself from everyday expressions and modes of speech that would make no sense in their word. In addition to that, as the characters all have an insect aspect to them, the challenge is to stress the fact that they're all still human, despite the occasional wings and claws."
SFX: So what is it about insects that inspires you?
AT: "I've liked insects since I was a child. Keep your birds and rabbits and squirrels – when you're young insects are the safari in your back garden. Insects are completely alien, but at the same time they can be used to hold a mirror up to us – their toiling industry, their bloody-minded perseverance, the cruelty of the microcosm that they live in. The heroes and villains of Empire in Black and Gold are human, but their insect natures give a lot of scope in characterisation."
SFX: Okay, tell us a little bit about your characters. What do you like about them? How much of you is in them?
AT: "There are no outright heroes and villains. One thing I was very keen on was to make sure that the Wasps, who are the aggressors, aren't evil by nature. They have a savage and warmongering civilisation, but individual Wasps can be as good or bad as anyone else. Thalric, the main villain who drives the plot of Empire has his virtues, not least his faith in and loyalty to the Empire that he serves. Similarly the heroes have their dark sides. Nobody's perfect."
SFX: What's the weirdest thing you've done in the name of research?
AT: "In a word: larping. Live role-playing. It may seen an odd thing to write off as research, but there are very few hobbies that allow you to experience an five-hundred a side freeform field battle or an honour duel or a night raid, and for a fantasy writer it can be useful hands-on experience."
SFX: You were born in Lincolnshire, but you share a surname with the Russian composer. Is it a pen-name, or does your family trace its history to other lands?
AT: "Ah, the name. Well, the name's got a story behind it. You see, my real name is such that I have to spell it to people about ten times every day, so what you see on the cover of the book is the most easily recognised alternative spelling of that. My family are originally from Poland – my grandfather came over during the war – and I'm very proud of my heritage; but on the other hand, having a name that nobody in this country seems to be able to pronounce would make it difficult for people to ask for the book in the shops."
SFX: We recently ran a writing competition in the mag – any tips for newbie writers on where they should begin?
AT: "Don't give up, mainly. It took me a long while or writing and submitting and being knocked back before I got to this point. And always be open to criticism. Learning to take criticism as something other than a personal attack is vital, because when you do end up talking to an agent or a publisher there'll always be things that they bring you up on."
SFX: Do you have any pet hates about modern fantasy fiction?
AT: "Elves and dragons! No, elves and dragons can be done very well, honestly. There are plenty of interesting ways to use elves and dragons. There are also a few dull ways to use elves and dragons, and those ways seem to be by far the more prevalent in today's market, sadly."
SFX: How long until the next in the series is published?
AT: "I believe we're looking for a February 2009 release for Dragonfly Falling (book two) and autumn 2009 for book three."
SFX: Thank you, Adrian!