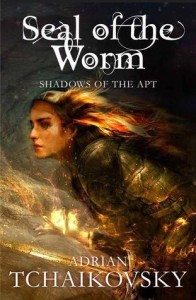 …in which I shall be hellish busy. The voice of the convention is heard in the land.
Before the details of that, though, some heads up:
Yes, Seal of the Worm is officially out tomorrow (3rd July). Some people already have their copies. The final volume of the Shadows of the Apt is upon us. The insect-kinden aren't done – I'm already starting to plan their next exploits – but the plotline that kicked off with Stenwold, Tisamon and Marius holed up in Myna watching the Wasps kick in the gates, that will finally reach its conclusion. I won't lie, it's a tear-jerker for me. The end of an era. Enough of that, though. Later for that. I'll give the series a proper send off in a post soon enough, but there's other pots on the boil just now…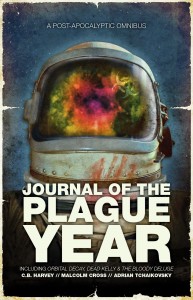 A new book! Or 1/3 of a new book. My Afterblight novella for Abaddon, The Bloody Deluge, is out as the rear end of Journal of the Plague Year, alongside novellas from Malcolm Cross and CB Harvey. The Afterblight chronicles are a series of stories set in a plague-ravaged post-apocalypse, and the series has a fair few good names under its belt. To get an idea of the direction I took the brief in, Dave Moore of Rebellion/Abaddon had me talking about it here . Writing in the real world was interesting. Deluge is about religion, nationalism, the good and bad in human nature and why you always, always want to be near the living history guys when the crap hits the fan.
Also new, I did a guest post for A Dribble of Ink that came out this week, and Aidan Moher of that site did a wonderful job prettying it up, so that the result is possibly the nicest thing I've had on a website in a long while. Insects are People Too is my text, and I go into some of the literary antecedents of the insect-kinden, and precisely why I do this crazy insect voodoo. Subsequent to the article going up, I did get a few names thrown at me as fellow entomophiles, and so I herewith admit China Mieville and Kameron Hurley to the Most Worshipful and Secret Order of Authors Who Have Been Known To Write Positive Insect-based Fiction.
But now, on with the music, for there are conventions out there waiting to be convened, and yea, they are legion. Last year I solemnly declared that I would be cutting down on the conventions, and this year I have completely failed to do this. In fact this is a failure of international proportions. I may not survive it.

30th July to 3rd August – Celsius 232 in Avlies, Spain, alongside an international cast of writing luminaries. Not done this one before, not been to Spain before, and my Spanish extents to "hola" on a good day. Very nervous. I will be doing a talk/interview and have been promised a stellar translator (1)

8th-10th August – Nine Worlds Geekfest at Heathrow. This was enormous fun last year, and I'm hoping it'll be just as much so this time around. The panels and so forth are still being finalised but I've been spotted so far for an Authors Talk About Game of Thrones (2) one, a couple of interesting Dr Who ones, one on writing inhuman characters, and possibly more on the way.
12th August – not exactly a convention, but I shall be one of the many names at Fantasy In The Court, a civilized evening get together at Cecil Court in London – ticketed event so grab one if you want to come along and chew the fat (3).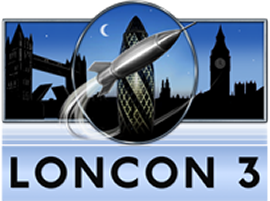 14th-18th August – The World Science Fiction Convention, aka Loncon 3 at the Excel Centre in London. George RR Martin's gonna be there! So I can play that game where I fail to talk to him. Oh what laughs we had at Eastercon 2012, or we would have done, if only I'd actually plucked up the courage. Anyway, I am down for some several panels for this one, and I have what appears to be a final(ish) schedule, so I can confidently reveal that I shall be aiding and abetting the following: Friday 10-11am (4) I Like My Secondary World Fantasy A Little On The Techy Side; Friday 3-4.30pm Developing LARP – World vs Character; Friday 9-11pm Welcome Party (5), for God's sake come over and talk to us; Saturday 3.30-5pm Who Misplaced the Monster Compendium – this is my favourite of the lot, discussing 'whither monsters?' with Rjurik Davidson, Tom Pollock, KJ Bishop (I am such a KJ Bishop fanboy!) and my editor Julie Crisp; Sunday 6-7pm The Seriousness Business (how Grim was my Darkness). And, obviously, I am around in general and generally available as to be bought drinks and commiserated upon about the Gemmells or whatever you happen to want to do. I have some vague idea I put in to do a reading as well, but no word on that yet.
I get to catch my breath after that, but later on I am at:
5-7th September – Fantasycon, York
12-13th September – Titancon, Belfast
25th October – Bristolcon, Kuala Lumpur.
No idea what I'm doing at those ones yet but odds on by the time I hit Bristol I will be drawing on the walls and gibbering to myself.
(1) as in a translator who is very good, not that thing out of Star Trek.
(2) cue 50 minutes of "I wish I'd thought of that first"
(3) bring your own fat.
(4) Always with the early morning panels. I like my secondary world fantasy with a huge cup of very strong coffee
(5) Yes, the welcome party comes after half my panels have already been