It's that time of year again. I'm currently busy dealing with a number of Secret Projects, which I hope I will be able to spill the beans on soonish, but right now, here's a fairly bare bones list of Things I Am Doing this year. As one of them's in a fortnight, I figured I needed to boost this out fast.
24th January – Sheffield Fantasy & Science Fiction's get together at Eten on York Street, Sheffield. I will be there, Jo Walton will be there, for a Super Relaxed Fantasy Club – style event.
12th February – Signing, Forbidden Planet, London. Release night for Guns of the Dawn! It will be out. I will be there. I will be signing books. Hopefully people will be there buying books. Do come along!
28-29 March – Luxcon, Luxembourg. Details still being put together but I should hopefully be there.
3-6 April – Eastercon (Dysprosium), Heathrow
June – release of Children of Time, my all-new what-the-hell-is-he-doing-now SF novel.
11 July, Edge Lit, Derby Quad
7-9 August – Nine Worlds, also at Heathrow
26 September – Bristolcon, maybe. It's a long way so not 100% but had a really good time there.
9-11 October – Octocon, also maybe. I've heard very good things about it, so I'm investigating whether they'd have me.
23-25 October – Fantasycon, Nottingham
November – possible release of The Tiger and the Wolf – this is still up in the air and it may be in 2016, but this is a time slot Tor have been talking about.
That's what the year looks like. Three books, apparently. Three books. That's just mad. Or possibly it will be two books, which I classify as only slightly deranged and able to function in literature. Because 2015 is The Year Of New Things, I will be generally Up For Stuff if I can make it, do it or contribute towards it. Grab me on Twitter ( @aptshadow ) or on facebook, or leave a comment, or send a messenger hornet or something.
And now, to take the edge off all this self promotion: bad art! Specifically, because the new year is always a good time for some self-flagellation, my own bad art. I do concept sketches sometimes, you see. They are terrible. I can't do feet. Often I can't do ears either. There are an awful lot of these things just too terrible to show, but here are some of the best (yes, these are actually the best). Ok, I am piling this on a bit thick, because I'm nervous and haven't actually posted my concept art up before. Just take it from me that there are some really, really terrible ones I'm not showing you.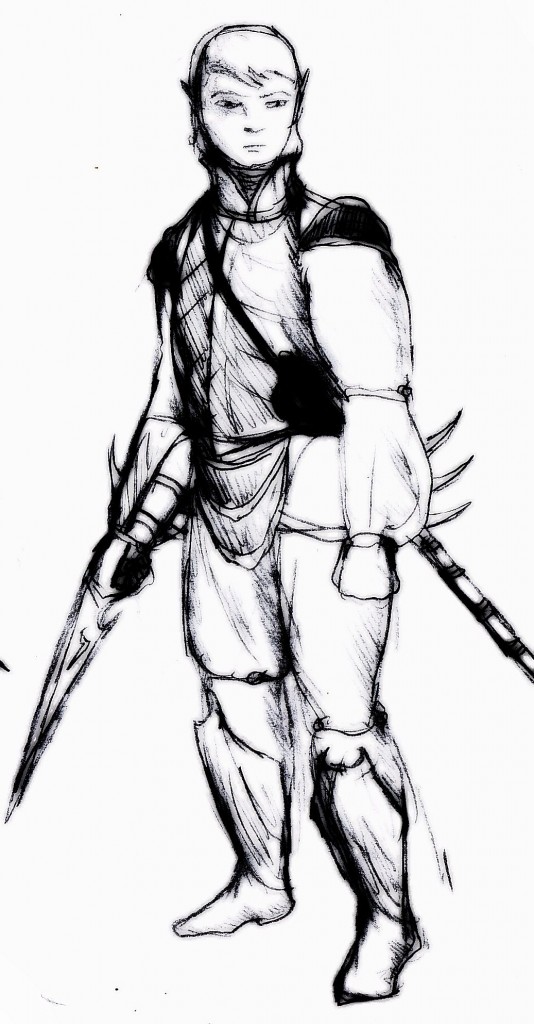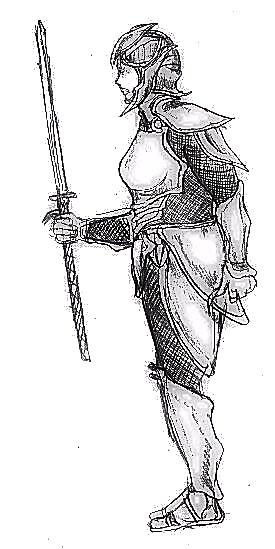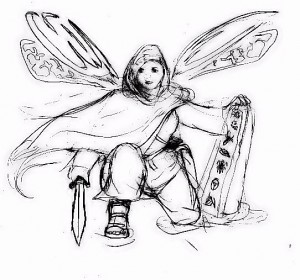 Here we have a Mantis from waaaaaay back when I was at university in the 90s, and a Felise Mienn reference sketch for Jon Sullivan's Dragonfly Falling cover.
Below left is my try at Che for Jon's Scarab Path cover (I think). The very cartoony Wasp below right is another university effort, and served as the inspiration for the character of Gaved.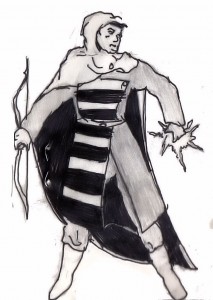 Here we have three bit-part players, who for some reason tend to turn out better than the leads in concept sketches. From left to right, Nemoctes, a very early Roach sketch that became the character of Syale in War Master's Gate and poor luckless Gribbern.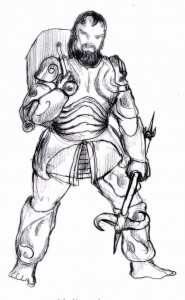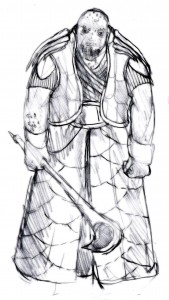 And last of all, because I drew dozens of these guys, an early go at a Thorn Bug that's a pretty good likeness for Scuto.